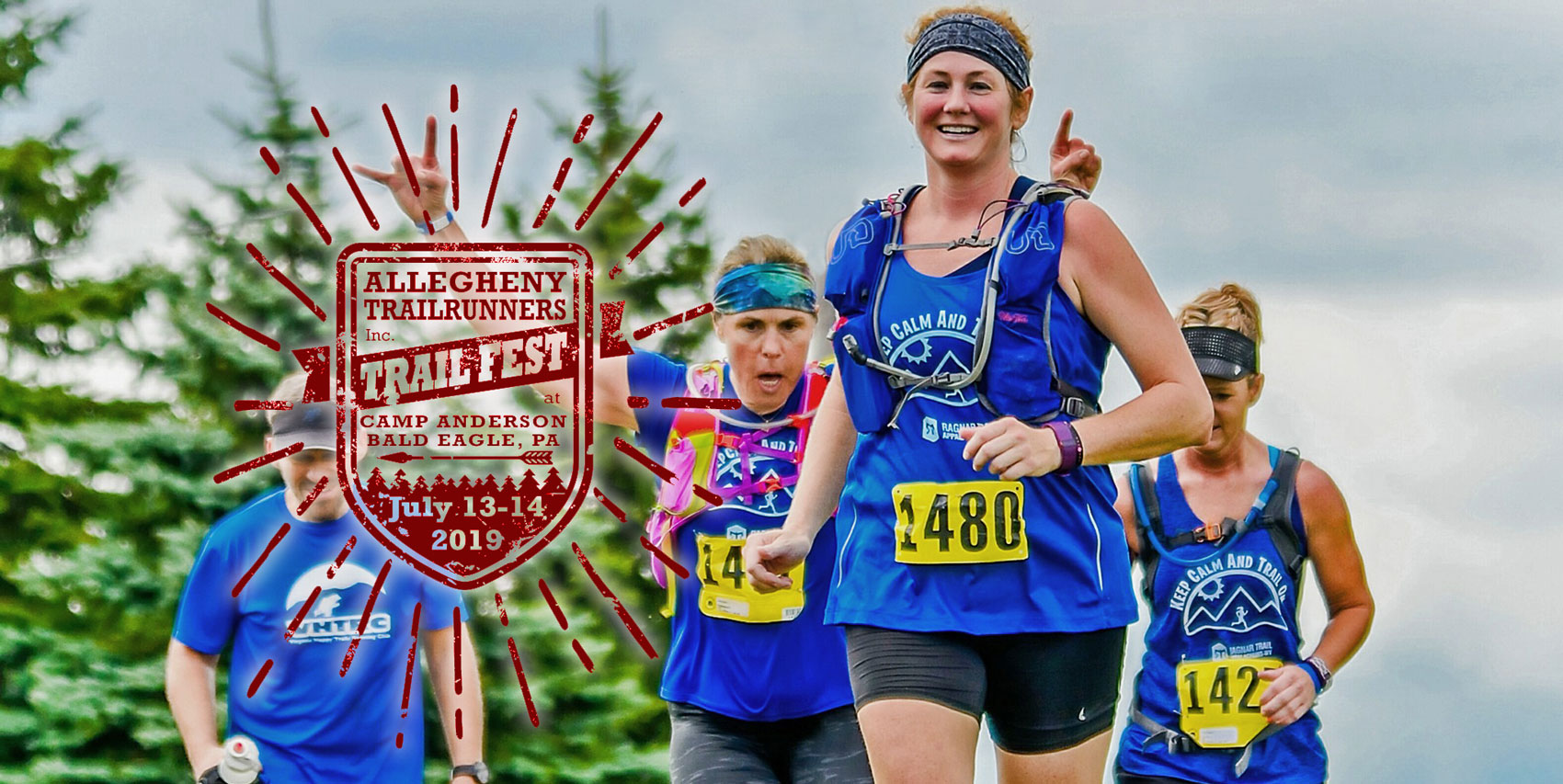 The Allegheny Trailrunners Trail Fest is July 13-14 with a timed-endurance event on Saturday, July 13th. Run as much as you want on our looped course for three, six or twelve hours!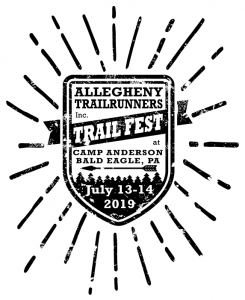 The Allegheny Trailrunners Trail Fest is coming to Camp Anderson near Bald Eagle, PA between State College and Altoona, PA and minutes from I-99 — in the heart of The Alleghenies on July 13, 2019.
The Trail Fest will begin Friday evening at 6pm when we open Camp Anderson for anyone who wants to pitch their tent in the main field. That evening hang out at the main bonfire or walk from camp to camp as we will have more than half-dozen campfires throughout the 80-acres of Camp Anderson.
The main event is Saturday with THREE endurance runs of 3, 6 and 12 hours beginning at 8am on our 2 mile course. All runners will get a finishers award and acknowledgement for those who complete a marathon, 50K, 50-mile and 100K distances.
Before, during and after the run there will be local and national vendors, educational seminars, kid-friendly activities, live music, and more! Examples are: Wilderness Medicine for Race Directors and Volunteers, Wilderness Survival for Kids, Yoga for Runners, product demos, movies, and more…
More details are coming as we put together the agenda so check back soon and often!
In the evening, enjoy a second night of camping, roam the many campfires on the property, enjoy beers from our Mini-Yet-Mighty Brewfest, watch an inspirational movie… etc.
All weekend enjoy great food provided by Camp Anderson and regional scout troops!
The Allegheny Trailrunners Trail Fest will close at noon on Sunday.
So… take a permanent marker and put an "X" on July 13th because you will be at the Allegheny Trailrunners Trail Fest!
---
Pricing and Add-ons
$55 for 3-hours; starting time at 8:09am
$65 for 6-hours; starting time at 8:06am
$75 for 12-hours; starting time at 8:00am
Meals: Meal tickets will cost $8 and can be purchased online during registration or at the event. All proceeds from this will go directly to the Camp Anderson fund. Breakfast, Lunch and Dinner meals will be served on Saturday, each one requiring a separate ticket. A la carte meals will be served for Friday night dinner, Saturday late night snack time and Sunday morning breakfast.
Camping: Camping will be first-come first serve. $5 per head per night and will be collected upon entry. Campers will have full access to the shower house. This is TENT ONLY camping, no R.V. or pull behind trailers. NO PETS. All proceeds from camping will go to Camp Anderson.
Parking: Parking is VERY LIMITED and will be first-come first serve. There will be additional parking at Smith Transport Warehouse, 13985 S Eagle Valley Rd, Tyrone, PA 16686. Smith Transport is 2.4 miles away. A shuttle will transport runners at various times all weekend. (Schedule to be posted). Parking and shuttle service is free but tips (shuttle provided by Camp Anderson) is greatly appreciated.
(Registration Begins Saturday, March 9th at 8am!  Limit: Only 200 runners!)