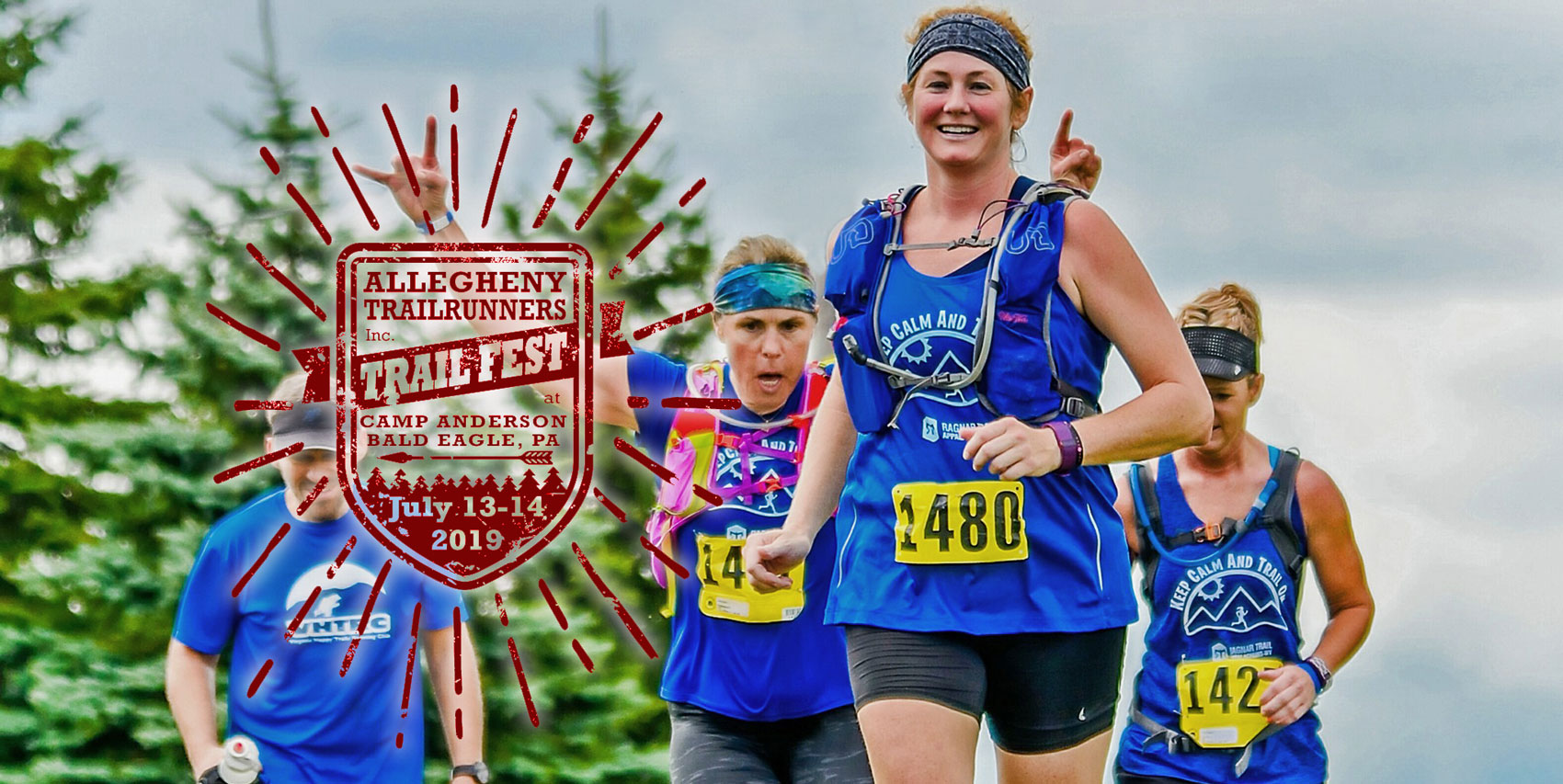 The Allegheny Trailrunners Trail Fest 3•6•12 is July 13 with a 3, 6, or twelve hour timed event on Saturday, July 13th. That doesn't mean you need to run continuously for all those hours.
Run as much or as little as you want! Think of it as an weekend party with your trailrunning family!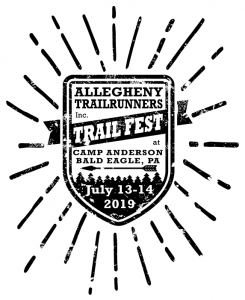 The Allegheny Trailrunners Trail Fest is coming to Camp Anderson near Bald Eagle, PA between State College and Altoona, PA and minutes from I-99 — in the heart of The Alleghenies on July 13, 2019.
Pricing and Add-ons
$55 for 3-hours; starting time at 8:09am
$65 for 6-hours; starting time at 8:06am
$75 for 12-hours; starting time at 8:00am
Relay Teams:
6 Hours — 2-3 Person Relay – $120
6 Hours — 4-6 Person Relay – $235
12 Hours — 2-3 Person Relay – $135
12 Hours — 4-6 Person Relay – $265
Relay Rules: For example if you are doing the 4 to 6 person relay, you can have as little as 4 people and as many as 6. Runners can run as much or as little as they want but all runners on a team must run at least one lap on the course.
Swag: Runners will be given our Summer Run Bag of Swag! Includes:
Soft airlume comb and ring-spun Trail Fest T-shirt. (You can also get your shirt personalized on site with your name, miles ran, overall time, or whatever, across the back for a small additional cost.)
6-pack insulated cooler lunch bag
Water-activated cooling towel
13 oz. Craft Master Grand glass by RASTAL GmbH

Allegheny Trailrunners Trail Fest window sticker for various mileage milestones.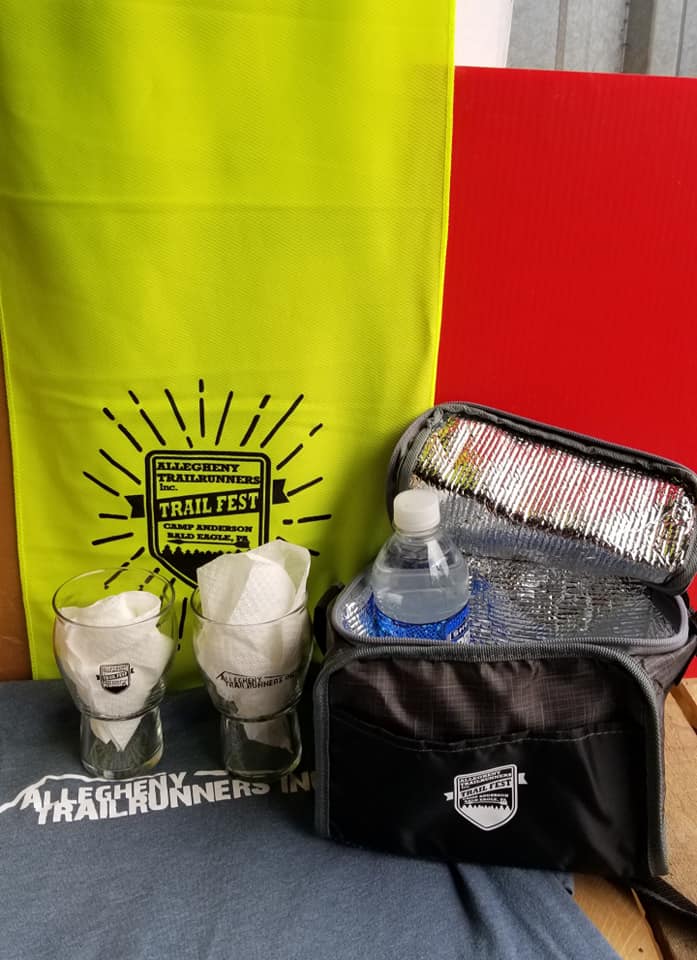 Parking and Camping: Camping will be first-come first serve. $5 per head per night and will be collected upon entry. Campers will have full access to the shower house. This is TENT ONLY camping, no R.V. or pull behind trailers. NO PETS. All proceeds from camping will go to Camp Anderson.
Friday evening guests will park between the overflow lot on Decker Road with camping provided between the overflow lot and the aid station along the course. On Saturday any arrivals can park in the field near the dining all and camp anywhere on Camp Anderson property.
Aid Station Food: There will be one aid station on the course serving water and electrolyte drink and common aid station foods. The aid station will also feature a special breakfast, lunch and dinner item. Stay tuned as we nail down the menu and times. All runners are welcome to set up their own mini-aid stations along the course with whatever food and beverages you want!
Meals: Meals are served in the Camp Anderson Dining Hall. Meal tickets will cost $8 and can be purchased online during registration or at the event. Breakfast is breakfast burritos, meatball subs for lunch and a pasta dinner in the evening. All proceeds from this will go directly to the Camp Anderson fund. Breakfast, Lunch and Dinner meals will be served on Saturday, each one requiring a separate ticket. A la carte meals will be served for Friday night dinner, Saturday late night snack time and Sunday morning breakfast.
Beer: Furrer Beverage will be providing free beer/beverages for finishing runners after each race. Then to conclude the end of the 12-hour race, join us for the "BonFire BevFest" featuring a dozen brands from 8 p.m. to 10:30 p.m. Please bring ID as we will be wrist-banding all those 21 or older. You are also welcome to BYOB.
POST-3 AND 6-MILE RACE LINE UP:
Michelob Ultra
Naturdays [light lager]
Golden Road Spike Auga Frescas [Strawberry pineapple, Cucumber Lime, Mango]
Golden Road Wolf Pub IPA [session IPA]
BONFIRE BEVFEST LINE UP:
Long Trail VT IPA [NE IPA]
Blue Point Hazy Bastard IPA – [NE IPA]
Springhouse Spundae IPA [milkshake IPA]
Wicked Weed Lt. Dank [American IPA]
10 Barrel Raspberry Crush [Fruited Sour]
Wicked Weed Watermelon Burst [fruited sour]
Elysian Salt and Seed Watermelon [Gose]
Bon & Viv Spiked Seltzer Lemon Line [hard seltzer]
Devils Backbone Hibiscus Hard Lemonade [hard seltzer]
Goose Island Dry Hopped 312 [Wheat/pale ale]
(Registration Begins Saturday, March 9th at 8am!  Limit: Only 200 runners!)